Receive a Quote from upto 4 Local Custom Countertop or remodeling Pro's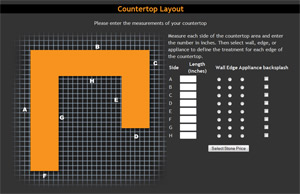 the Instant estimator is designed to provide you options around your estimate. We will ask you about size color and price to try to determine the most acurate pricing as possible. Please contact your local service provider for an accurate estimate.
mees tile
Kentucky, Kentucky, KY
http://www.meestile.com
american blue grass marble
Kentucky, Louisville, KY
http://www.americanbluegrassmarble.com
mcdonald marble and stone
Kentucky, Louisville, KY
http://www.mcdonaldmarbleandstone.com
tru rockK
Kentucky, Louisville, KY
http://www.trurock.com
Precision Granite & Marble, Inc
6410 KY Dam Road Paducah, KY 42003, Paducah, KY
270-898-0280 http://www.precisiongranitemarble.com/
Unique Granite and Marble
2601 Old Henderson Road Owensboro KY , 42301, Owensboro, KY
(270)685-5683 http://www.uniquegranite.biz
arcoiris granite
231 Walker Lane - Edgewood, Ky - 41017, Edgewood, KY
(859)331-6446 http://www.arcoirisgranite.com/
K Stone Design Inc.
416 E 10th Street Newport, KY 41071-2220, Newport, KY
(859) 581-2255 http://www.nkstone.net/
Stone & Granite?
710 National Avenue Lexington, KY 40502-1432, Lexington, KY
(859) 253-4070 http://www.stonesandgranite.com?
TYSON STONE
505 West New Circle Road Lexington, Kentucky 40511 U.S, Lexington, KY
859-388-9233 http://www.tysonstone.com/
arcoirisgranite.com
231 Walker Lane - Edgewood, Ky - 41017, Erlanger , KY
(859)331-6446 http://www.arcoirisgranite.com
Call Today!
(877) 735-4877 x1000